Rain shifts south of metro Houston today, and we're watching the tropics ahead of Labor Day weekend – Space City Weather

https://t2m.io/KaVyojx
https://t2m.io/CNFW6Yg
https://t2m.io/BU6WgXe
https://t2m.io/35NnyYu
https://t2m.io/N19CbD8
https://t2m.io/NOkr7Fg
https://t2m.io/JiOjCFz
https://t2m.io/bp84jUh
https://t2m.io/gtrvgH7
https://t2m.io/TMbC1pX
https://t2m.io/fL8pLLT
https://t2m.io/fNrUAv5
https://t2m.io/oF7owfL
https://t2m.io/Ux3TurV
https://t2m.io/NAVKBfP
https://t2m.io/Y3763SV
https://t2m.io/kv642cM
https://t2m.io/zqXmf2Y
https://t2m.io/KuwXRpg
https://t2m.io/jz580Te
https://t2m.io/m1ecdQB
https://t2m.io/u1obO5y
https://t2m.io/nD07Q0P
https://t2m.io/MZ233E7
https://t2m.io/DccjOvd
https://t2m.io/WC9Yx4S
https://t2m.io/rx3r5ao
https://t2m.io/48a7w12
https://t2m.io/66gsqRL
https://t2m.io/sKkEjm4
https://t2m.io/uxsCB57
https://t2m.io/wovHWYc
https://t2m.io/pasTbGW
https://t2m.io/6aXdorw
https://t2m.io/5mLTBqS
https://t2m.io/oazFcaV
https://t2m.io/gaOUm6Y
https://t2m.io/cSCsiEo
https://t2m.io/gwpKyov
https://t2m.io/H8CJKvo
https://t2m.io/vgPBLUZ
https://t2m.io/mixnnqy
https://t2m.io/keSJOgh
https://t2m.io/YV2u61U
https://t2m.io/5N90KmE
https://t2m.io/vBgMSBF
https://t2m.io/2HunhVB
https://t2m.io/GVxyo4L
https://t2m.io/85vZAfr
https://t2m.io/1XkH5K8
https://t2m.io/gio9GWh
https://t2m.io/5dGtgxG
https://t2m.io/Vt2b1B2
https://t2m.io/0yx0ub9
https://t2m.io/S0WU8fx
https://t2m.io/prNgmja
https://t2m.io/OVFwyjJ
https://t2m.io/c38z8V7
https://t2m.io/Ccsz2fi
https://t2m.io/v4zxUcK
https://t2m.io/j6OZqGY
https://t2m.io/fSzOpa7
https://t2m.io/h7DXDP2
https://t2m.io/YCFqGas
https://t2m.io/Er76FGf
https://t2m.io/peLLw3F
https://t2m.io/xCFPBAQ
https://t2m.io/UnQJaeW
https://t2m.io/8VWqREg
https://t2m.io/x2vrVWv
https://t2m.io/4VdBACz
https://t2m.io/wxqiTia
https://t2m.io/rfO4oY1
https://t2m.io/VWHaAf7
https://t2m.io/jVFSb7K
https://t2m.io/4zAReCh
https://t2m.io/uqKAxrz
https://t2m.io/Af5qYwF
https://t2m.io/1UZY1B3
https://t2m.io/7CASdMP
https://t2m.io/fNm0TOk
https://t2m.io/WyWNAHc
https://t2m.io/smj9sB0
https://t2m.io/fnjfkLT
https://t2m.io/jwM5GRm
https://t2m.io/yZGx8YZ
https://t2m.io/9PTzgoS
https://t2m.io/zWFPuBk
https://t2m.io/cqsevOD
https://t2m.io/0hYmT45
https://t2m.io/uJY46zW
https://t2m.io/dZpkY6R
https://t2m.io/UgO8m2X
https://t2m.io/rYCsRWw
https://t2m.io/x2PDN35
https://t2m.io/oPUOaOy
https://t2m.io/WqdP2SH
https://t2m.io/eBQ9B0k
https://t2m.io/6qZqnpj
https://t2m.io/2cYSQ1D
https://t2m.io/yhFKQrK
https://t2m.io/vOBxjy2
https://t2m.io/NN14vah
https://t2m.io/rhYxD11
https://t2m.io/TeWQmY0
https://t2m.io/baCXtX7
https://t2m.io/zQx0O5v
https://t2m.io/ugw6MPm
https://t2m.io/OOv5gpJ
https://t2m.io/VzAJqFx
https://t2m.io/Pkitsob
https://t2m.io/1vm91oL
https://t2m.io/1mqfoDr
https://t2m.io/VfJypPw
https://t2m.io/yiei7Fm
https://t2m.io/BqWZAaF
https://t2m.io/vpeTXun
https://t2m.io/iVf0fyz
https://t2m.io/KFBhbxa
https://t2m.io/AC7fMkZ
https://t2m.io/WiXQd0p
https://t2m.io/ANOqvpM
https://t2m.io/W366rid
https://t2m.io/RG8poVH
https://t2m.io/UWfsVy4
https://t2m.io/kdW4b1g
https://t2m.io/bqdFz1k
https://t2m.io/TzUsc4X
https://t2m.io/xVxA3kb
https://t2m.io/FWWvusX
https://t2m.io/WpVjCJx
https://t2m.io/7X5Aqs4
https://t2m.io/CdK8izR
https://t2m.io/Eri1gvr
https://t2m.io/aZ5VmrT
https://t2m.io/rQNh80J
https://t2m.io/HiKJMKC
https://t2m.io/5714HSf
https://t2m.io/QU0eCAO
https://t2m.io/ui9SgEZ
https://t2m.io/UykYcSd
https://t2m.io/wbk0OGT
https://t2m.io/rVMcwoN
https://t2m.io/xUs0MEf
https://t2m.io/Pch71jZ
https://t2m.io/DyL8dQR
https://t2m.io/U0Z2Wfa
https://t2m.io/6kF6hd5
https://t2m.io/pRim21J
https://t2m.io/kbTjZPi
https://t2m.io/i54UREu
https://t2m.io/ZU5o7oQ
https://t2m.io/WYsowTt
https://t2m.io/cLREYwt
https://t2m.io/rvHw0NY
https://t2m.io/WWwHUkm
https://t2m.io/FCb1CRm
https://t2m.io/vnk4j0O
https://t2m.io/9pOpRwR
https://t2m.io/ivh08Wj
https://t2m.io/SPoY5ir
https://t2m.io/nsn8H6v
https://t2m.io/jtqvHiZ
https://t2m.io/JzWjcBT
https://t2m.io/zdyzmo4
https://t2m.io/xh7WPcO
https://t2m.io/7B833wS
https://t2m.io/nh8LQrq
https://t2m.io/8GrZP0h
https://t2m.io/38SNOHC
https://t2m.io/qmFkfkL
https://t2m.io/R1arpcc
https://t2m.io/pe4WN6A
https://t2m.io/2HBWpNS
https://t2m.io/pExbsww
https://t2m.io/HPkHYva
https://t2m.io/hA5WOLK
https://t2m.io/BVMO9Bp
https://t2m.io/USbXO3F
https://t2m.io/EVn9e00
https://t2m.io/Z4jcf9y
https://t2m.io/UTFs2xy
https://t2m.io/KFGM68L
https://t2m.io/DTHquhW
https://t2m.io/Sk7BTi0
https://t2m.io/vRC0WMb
https://t2m.io/4j5EVEj
https://t2m.io/YsGKF11
https://t2m.io/TJnhgjS
https://t2m.io/ywhZEF6
https://t2m.io/JUnwQOJ
https://t2m.io/Bv08VsP
https://t2m.io/TvfwUdr
https://t2m.io/b2vMbTo
https://t2m.io/xVthnZw
https://t2m.io/AbVgSeo
https://t2m.io/AGZXjHf
https://t2m.io/wwLyD7G
https://t2m.io/OzFKsgh
https://t2m.io/VPv8V9Z
https://t2m.io/f4MOWxj
https://t2m.io/6o8p7R0
https://t2m.io/6XGdyPV
https://t2m.io/qdXmVMH
https://t2m.io/2HX1P9J
https://t2m.io/oeXaudQ
https://t2m.io/NKCXVG6
https://t2m.io/UggHeTv
https://t2m.io/QJC4Wtp
https://t2m.io/eytuGhc
https://t2m.io/yTcOxzy
https://t2m.io/qLaRQ0w
https://t2m.io/kMQTjT7
https://t2m.io/2XLgpna
https://t2m.io/7JChrhu
https://t2m.io/TQfSGvS
https://t2m.io/rVB9uaN
https://t2m.io/BOkqDMn
https://t2m.io/PzaJJBF
https://t2m.io/XWZdAvk
https://t2m.io/0uSycqE
https://t2m.io/GEtWNOz
https://t2m.io/HamiVQx
https://t2m.io/7bN3o2T
https://t2m.io/1rbBmXQ
https://t2m.io/ThiTTBo
https://t2m.io/KEVu9Xd
https://t2m.io/RWGoMRb
https://t2m.io/BPgrr06
https://t2m.io/nHg6faH
https://t2m.io/bo2JovP
https://t2m.io/7hmcL03
https://t2m.io/r4byFvx
https://t2m.io/F9TCmhU
https://t2m.io/Xbw3sb3
https://t2m.io/QfQb6qx
https://t2m.io/TwaK9XB
https://t2m.io/qkD3tpH
https://t2m.io/ApYNRN3
https://t2m.io/Ujsnka6
https://t2m.io/Xpznh5G
https://t2m.io/o5Yv663
https://t2m.io/82NL1Tf
https://t2m.io/rHHJqQt
https://t2m.io/omVge4O
https://t2m.io/8hYvP22
https://t2m.io/6PXbjXt
https://t2m.io/LvO1cgO
https://t2m.io/vmY43zB
https://t2m.io/mRoKP3f
https://t2m.io/LxMteFh
https://t2m.io/MWNPeEe
https://t2m.io/KrKGBZh
https://t2m.io/r74BkWo
https://t2m.io/KQRXYFW
https://t2m.io/zxue2Mi
https://t2m.io/StpoTCj
https://t2m.io/oiaCfCo
https://t2m.io/Ha9a4F6
https://t2m.io/smX0bfL
https://t2m.io/KjKX1q9
https://t2m.io/ThTkWq6
https://t2m.io/1DnH8S2
https://t2m.io/FEbgp96
https://t2m.io/YxHp8Qx
https://t2m.io/tV2Df0F
https://t2m.io/0hebtMQ
https://t2m.io/ArvrtHe
https://t2m.io/JOzC79y
https://t2m.io/1NUk59o
https://t2m.io/Cm0VAAh
https://t2m.io/x20AD0E
https://t2m.io/yCDoPDD
https://t2m.io/pROkJAU
https://t2m.io/HWYNnGQ
https://t2m.io/6zWq3DR
https://t2m.io/JDtAOCj
https://t2m.io/78pCsmW
https://t2m.io/rqSooqS
https://t2m.io/f0KN0j7
https://t2m.io/qh7xmTt
https://t2m.io/HBEeRGz
https://t2m.io/4azAh4m
https://t2m.io/KLZNzKH
https://t2m.io/6DrRbQb
https://t2m.io/NDYKk3x
https://t2m.io/jQP2qiw
https://t2m.io/qeSeqvf
https://t2m.io/Exo46VN
https://t2m.io/AAK7GDd
https://t2m.io/Hi5txJt
https://t2m.io/VZXZ8wG
https://t2m.io/LnUNCEd
https://t2m.io/5CZs1Nj
https://t2m.io/Fmu19Ad
https://t2m.io/LO6RfGU
https://t2m.io/gXhD94Z
https://t2m.io/nvMvLSv
https://t2m.io/5tfQ1i6
https://t2m.io/8bScdfz
https://t2m.io/5vJvkdg
https://t2m.io/Wuw8Hkj
https://t2m.io/s9ZFQWO
https://t2m.io/oEowBLZ
https://t2m.io/UnMx4pX
https://t2m.io/ZVkMVKy
https://t2m.io/ysCas1r
https://t2m.io/uLjSC2h
https://t2m.io/0dhSx7f
https://t2m.io/mtT15yS
https://t2m.io/PF3rAyf
https://t2m.io/3Brkpm4
https://t2m.io/7rPjvEj
https://t2m.io/onzAnx8
https://t2m.io/KUkdxg1
https://t2m.io/k6oairG
https://t2m.io/t36LZyZ
https://t2m.io/dvjN6qa
https://t2m.io/zYvBbeO
https://t2m.io/zueMbKn
https://t2m.io/qvs6gAJ
https://t2m.io/DQHM8bW
https://t2m.io/LSYeWnG
https://t2m.io/RoDGEqG
https://t2m.io/WZmaR3G
https://t2m.io/2ceqG5C
https://t2m.io/6VxHLE3
https://t2m.io/mKesOSQ
https://t2m.io/3meFbks
https://t2m.io/pmbXg7i
https://t2m.io/hWNGu7a
https://t2m.io/8gJ8Vn9
https://t2m.io/TXBzjeD
https://t2m.io/2DWgDwk
https://t2m.io/ngXP8Ca
https://t2m.io/3CPkQU2
https://t2m.io/u9HqpFM
https://t2m.io/A8jkTxT
https://t2m.io/AmCJxKQ
https://t2m.io/rGUJKpZ
https://t2m.io/aYAp93s
https://t2m.io/nc5SGhP
https://t2m.io/qMfODCZ
https://t2m.io/YYxJ1WQ
https://t2m.io/o528bRC
https://t2m.io/crx4z4i
https://t2m.io/5FF0x6H
https://t2m.io/nsR2Qzj
https://t2m.io/W22R8Mr
https://t2m.io/V8fFOO1
https://t2m.io/KCdVY2T
https://t2m.io/i2zs91g
https://t2m.io/mjjpick
https://t2m.io/kOMq8Me
https://t2m.io/tLgE9zU
https://t2m.io/Bcye7zT
https://t2m.io/OK033hG
https://t2m.io/89xVgrc
https://t2m.io/rALm67C
https://t2m.io/jqdEbLf
https://t2m.io/36DZeYj
https://t2m.io/Dqyg3MN
https://t2m.io/4e9o041
https://t2m.io/0rOfNL9
https://t2m.io/uJtviNb
https://t2m.io/3s7KF1J
https://t2m.io/5fLqeyt
https://t2m.io/0BCWKsb
https://t2m.io/649oONk
https://t2m.io/o1G41kV
https://t2m.io/sPk4YvD
https://t2m.io/kROPFuH
https://t2m.io/UUrDz9k
https://t2m.io/7uJvjrk
https://t2m.io/P3YxGpc
https://t2m.io/a0NN0n8
https://t2m.io/QDLHS23
https://t2m.io/Cnd2aVS
https://t2m.io/BZZB7ak
https://t2m.io/9JLFYbD
https://t2m.io/0JPir2M
https://t2m.io/QBH12cD
https://t2m.io/byKOspz
https://t2m.io/TZKbyTx
https://t2m.io/aVcJLQp
https://t2m.io/HOk4nqM
https://t2m.io/A967ZD0
https://t2m.io/veHB67r
https://t2m.io/gGSqZuE
https://t2m.io/Ze66g4o
https://t2m.io/NFRfegq
https://t2m.io/K5Dfr9h
https://t2m.io/q0xmPAO
https://t2m.io/fP475N0
https://t2m.io/eab25vZ
https://t2m.io/Xa74OCR
https://t2m.io/P87c3vL
https://t2m.io/90HOArc
https://t2m.io/Jx8RsPZ
https://t2m.io/zukXWY0
https://t2m.io/KXwQ7h3
https://t2m.io/ojB2XbL
https://t2m.io/ehrSdFe
https://t2m.io/gWXoGLr
https://t2m.io/26p6UXd
https://t2m.io/7ko3te8
https://t2m.io/zcy62ns
https://t2m.io/ORtbVkQ
https://t2m.io/jsYORzu
https://t2m.io/NMOe7ay
https://t2m.io/0DokWMb
https://t2m.io/8Fe92At
https://t2m.io/0VjfhrN
https://t2m.io/8Z7r6Et
https://t2m.io/dv1ct7i
https://t2m.io/ntvCgN5
https://t2m.io/z9W6CJm
https://t2m.io/jaPLKmB
https://t2m.io/rZQMGGa
https://t2m.io/ZpNNodY
https://t2m.io/mpFeEf9
https://t2m.io/DbGR4Wx
https://t2m.io/h5tLhAc
https://t2m.io/CqczLaP
https://t2m.io/rgPW0Wv
https://t2m.io/UkT379s
https://t2m.io/sXgsRGo
https://t2m.io/OfNbApL
https://t2m.io/Y2jv4zK
https://t2m.io/0dmUO3r
https://t2m.io/uTpqczK
https://t2m.io/gXBXsD9
https://t2m.io/28VZeQj
https://t2m.io/E8WXPem
https://t2m.io/7hnzJaB
https://t2m.io/iF3MTsX
https://t2m.io/WhQPnB7
https://t2m.io/g5qeecC
https://t2m.io/A2yiotY
https://t2m.io/WPBRsFB
https://t2m.io/k9xdUuV
https://t2m.io/VW2woRq
https://t2m.io/FBMnUQy
https://t2m.io/zYGOuqw
https://t2m.io/3p0hJR8
https://t2m.io/iBhrQhH
https://t2m.io/jJTVYjA
https://t2m.io/hCBeE10
https://t2m.io/G9fu0Ju
https://t2m.io/EcZvndZ
https://t2m.io/rZJrWKX
https://t2m.io/GkfEr1B
https://t2m.io/arMuzuD
https://t2m.io/yskkjQ9
https://t2m.io/vySym2A
https://t2m.io/4C0AUwM
https://t2m.io/XUqaLFf
https://t2m.io/RdbFLS8
https://t2m.io/SEc4EZ5
https://t2m.io/YKPfEBb
https://t2m.io/QtwZe47
https://t2m.io/WA142Di
https://t2m.io/NC0DwQM
https://t2m.io/vuq1Rt6
https://t2m.io/cbW3Qoj
https://t2m.io/r7uuES8
https://t2m.io/Xi86QED
https://t2m.io/eQ6a6bu
https://t2m.io/fS7K4qb
https://t2m.io/Y2bNmY1
https://t2m.io/7biXdu6
https://t2m.io/bOfRtCv
https://t2m.io/wv0ttSX
https://t2m.io/kaR0ApQ
https://t2m.io/75fhVUc
https://t2m.io/mqYHdLd
https://t2m.io/Cmqy05O
https://t2m.io/wJZLYTU
https://t2m.io/qrdmfsV
https://t2m.io/ogpZ6cT
https://t2m.io/7xGNNmt
https://t2m.io/4yLsZeg
https://t2m.io/ccgp87u
https://t2m.io/9JQfq4w
https://t2m.io/axzFy6a
https://t2m.io/YzEsn7S
https://t2m.io/hhFeLCd
https://t2m.io/Sv7PAcA
https://t2m.io/sMGiJw2
https://t2m.io/rfEWgTF
https://t2m.io/vPJUmcj
https://t2m.io/LMBjtfM
https://t2m.io/C4xrOtF
https://t2m.io/9c5GrDx
https://t2m.io/6yujrMH
https://t2m.io/Cw2UhEL
https://t2m.io/hb2bNT0
https://t2m.io/mw8MVzs
https://t2m.io/CmBfUJt
https://t2m.io/rQgS0fd
https://t2m.io/Fo1B5sG
https://t2m.io/PG7KbMj
https://t2m.io/Umj9A4L
https://t2m.io/D0Oiyz6
https://t2m.io/s83P3qR
https://t2m.io/1cxoB78
https://t2m.io/f64womf
https://t2m.io/AHNLWqq
https://t2m.io/mFZr3SU
https://t2m.io/6Tdy94b
https://t2m.io/ZZOkXvo
https://t2m.io/a8Wyw0Q
https://t2m.io/ubbt6cQ
https://t2m.io/q7HUEbS
https://t2m.io/a1Vxs7H
https://t2m.io/sYTShQR
https://t2m.io/Uutrajx
https://t2m.io/5wujdn7
https://t2m.io/n6eTvef
https://t2m.io/8YGS68H
https://t2m.io/0LQpAyN
https://t2m.io/LKeSizm
https://t2m.io/7OjfEcg
https://t2m.io/kKA3grx
https://t2m.io/SeR5ckC
https://t2m.io/53baQhk
https://t2m.io/km7MHba
https://t2m.io/HiMSgQd
https://t2m.io/wzngaZM
https://t2m.io/ueXMTZd
https://t2m.io/K9HGbsu
https://t2m.io/gDYWwgC
https://t2m.io/rVGNpPC
https://t2m.io/xeTpGEV
https://t2m.io/RbqmPEA
https://t2m.io/voWXV3j
https://t2m.io/cXFLG6U
https://t2m.io/CyDgHUP
https://t2m.io/9LjaVP3
https://t2m.io/OBkCWD3
https://t2m.io/eTtPEZs
https://t2m.io/EWi76FK
https://t2m.io/CTqZWGq
https://t2m.io/Lu4Viha
https://t2m.io/YcCsucz
https://t2m.io/bw7sGBz
https://t2m.io/AHrkiVw
https://t2m.io/zgtjKSD
https://t2m.io/LvBLgST
https://t2m.io/t9RaUrH
https://t2m.io/K19NKd0
https://t2m.io/sHj28fo
https://t2m.io/sFKJHoJ
https://t2m.io/poTrovi
https://t2m.io/RPXXUCb
https://t2m.io/qumpZh1
https://t2m.io/NbVuGLD
https://t2m.io/QV2REFw
https://t2m.io/O9iCW7H
https://t2m.io/FNRBEqE
https://t2m.io/qpGxtEs
https://t2m.io/rpNzSFQ
https://t2m.io/VaVLGFx
https://t2m.io/L55fd2A
https://t2m.io/0zMFV0e
https://t2m.io/WYpufKX
https://t2m.io/kp2GOjw
https://t2m.io/3h3OpYr
https://t2m.io/7aimN5Z
https://t2m.io/4RD0dLV
https://t2m.io/fgkfBOF
https://t2m.io/n9obMvc
https://t2m.io/7ZTE81n
https://t2m.io/5b4Hj2y
https://t2m.io/fUxTDhN
https://t2m.io/9WEmHxj
https://t2m.io/u7fzcct
https://t2m.io/EK12Xif
https://t2m.io/5BqD5xZ
https://t2m.io/1Oiu7VE
https://t2m.io/EEB2bqz
https://t2m.io/Bnkk2dr
https://t2m.io/ESiomQ0
https://t2m.io/K5NQsJ4
https://t2m.io/isGYpam
https://t2m.io/DtkQMKj
https://t2m.io/hnuxSwk
https://t2m.io/dH1kvc2
https://t2m.io/ZQ8iT1U
https://t2m.io/R1nyO3z
https://t2m.io/XawYcft
https://t2m.io/W1GQx5h
https://t2m.io/B5XwBNW
https://t2m.io/f1138Pm
https://t2m.io/jEgfywd
https://t2m.io/TVxapAs
https://t2m.io/rnqbWZE
https://t2m.io/s5xKMbs
https://t2m.io/wtfqQoH
https://t2m.io/g6JdMBW
https://t2m.io/zwyn8Pr
https://t2m.io/EmiuwPJ
https://t2m.io/7S74TEq
https://t2m.io/XEoDEfP
https://t2m.io/7e8wv8h
https://t2m.io/LfvcgO8
https://t2m.io/6dN7FD8
https://t2m.io/DTaxfpA
https://t2m.io/O4ZAOVG
https://t2m.io/Q2uJKwt
https://t2m.io/9mgrjCZ
https://t2m.io/jocCgoQ
https://t2m.io/nUV4T6h
https://t2m.io/pMu3E49
https://t2m.io/B4qNVaD
https://t2m.io/vKFjcSv
https://t2m.io/GOXqoTo
https://t2m.io/See7zmt
https://t2m.io/e8j9bTC
https://t2m.io/CigA6rw
https://t2m.io/JTssbqc
https://t2m.io/kVFH81Y
https://t2m.io/eQ1rrAL
https://t2m.io/X4Vax4G
https://t2m.io/pCAK2dw
https://t2m.io/CReeCQX
https://t2m.io/oCKEsLW
https://t2m.io/wuMaNnm
https://t2m.io/hApbBpo
https://t2m.io/7NpjvOr
https://t2m.io/fT5ZmVn
https://t2m.io/ugiwOvq
https://t2m.io/3P10RNO
https://t2m.io/3yxHQem
https://t2m.io/MYQhUR0
https://t2m.io/SP42QQH
https://t2m.io/3wxqTi3
https://t2m.io/0750wcW
https://t2m.io/Pn6tssA
https://t2m.io/dZZqhBt
https://t2m.io/r94Qf2R
https://t2m.io/yQ0nmiV
https://t2m.io/MyyhGvy
https://t2m.io/2rPbr10
https://t2m.io/ZNMYe7x
https://t2m.io/mm2qsxi
https://t2m.io/U6dAXou
https://t2m.io/Zq18pjP
https://t2m.io/KGUXsaF
https://t2m.io/tU3RjKD
https://t2m.io/51CDVfu
https://t2m.io/GU9HfOT
https://t2m.io/zQA4veS
https://t2m.io/XHzp0rz
https://t2m.io/dsw8Zyo
https://t2m.io/cQsjXVy
https://t2m.io/O6dd8qu
https://t2m.io/uhN772Z
https://t2m.io/fO3fUys
https://t2m.io/cusnCQE
https://t2m.io/hmPgS01
https://t2m.io/ZYKojMF
https://t2m.io/7UfG3E3
https://t2m.io/LdoCg9W
https://t2m.io/2WfiA9x
https://t2m.io/z1JzM6A
https://t2m.io/nF0ztki
https://t2m.io/mExb4Z9
https://t2m.io/4X7zB7T
https://t2m.io/jfdpZ8h
https://t2m.io/vkJvDE6
https://t2m.io/Oyv2gNL
https://t2m.io/mTMumYf
https://t2m.io/SxCDmcJ
https://t2m.io/VEt0BTv
https://t2m.io/yhEObEW
https://t2m.io/kS3mKyz
https://t2m.io/Za8FmiA
https://t2m.io/GP5Pmgz
https://t2m.io/vztJz27
https://t2m.io/2gcVj0z
https://t2m.io/KLqBUoG
https://t2m.io/nPyXr45
https://t2m.io/D1KDVKy
https://t2m.io/0CuYUL2
https://t2m.io/26r7ftk
https://t2m.io/cBhbxbA
https://t2m.io/PWKWR4N
https://t2m.io/ze62mOu
https://t2m.io/4tfuR9i
https://t2m.io/oi01JOv
https://t2m.io/AsqXtuR
https://t2m.io/R23SFgr
https://t2m.io/iTWqQuW
https://t2m.io/KPhXhXO
https://t2m.io/8PSttFc
https://t2m.io/EQFQkEN
https://t2m.io/ekmnMTm
https://t2m.io/00Z0Y20
https://t2m.io/HypfEOi
https://t2m.io/xaJiumy
https://t2m.io/PBAFsDb
https://t2m.io/YrTwANA
https://t2m.io/KJTGxbZ
https://t2m.io/ydpkN3W
https://t2m.io/LHu6ipj
https://t2m.io/fd6z5O2
https://t2m.io/Fs4XeR4
https://t2m.io/QxBbObc
https://t2m.io/1yBwNVx
https://t2m.io/SGjz7W8
https://t2m.io/JwGt5dA
https://t2m.io/ic86CRG
https://t2m.io/DZ1yDnb
https://t2m.io/ma47rci
https://t2m.io/WJz90BP
https://t2m.io/OhruBh5
https://t2m.io/jCLd9Ra
https://t2m.io/FEtvozm
https://t2m.io/P65au6j
https://t2m.io/o2p5yQK
https://t2m.io/ERjJ6Q5
https://t2m.io/fEWdmFO
https://t2m.io/5CTsH8i
https://t2m.io/7xCp4Ho
https://t2m.io/fJqfDTe
https://t2m.io/FCsyxXL
https://t2m.io/6cFPADU
https://t2m.io/68cbgTP
https://t2m.io/eJMFPH3
https://t2m.io/Vw7JYyH
https://t2m.io/9Tpi9sp
https://t2m.io/XwpJHbE
https://t2m.io/Xv240ji
https://t2m.io/vyp9Crk
https://t2m.io/WQeDFTT
https://t2m.io/TPV3Ntp
https://t2m.io/gUhEzOc
https://t2m.io/PGcS0OA
https://t2m.io/eLECS9F
https://t2m.io/cVRUcuJ
https://t2m.io/hJLxh9m
https://t2m.io/cuOFcPL
https://t2m.io/Zf5Q898
https://t2m.io/bkbPT32
https://t2m.io/T7n4Ogt
https://t2m.io/6NdC5Yq
https://t2m.io/D4G3Nq4
https://t2m.io/Re8JYki
https://t2m.io/Yc3qzFf
https://t2m.io/DWAnM3u
https://t2m.io/raFT5W2
https://t2m.io/PJftQTx
https://t2m.io/HwpTTtk
https://t2m.io/Te6EU6O
https://t2m.io/gFbCV6N
https://t2m.io/z3ea2qu
https://t2m.io/BDxncMt
https://t2m.io/dRa7hZF
https://t2m.io/koJKsLU
https://t2m.io/2wG36hW
https://t2m.io/cK4xqUU
https://t2m.io/SWovjYM
https://t2m.io/9o0ojV1
https://t2m.io/VjDwPcP
https://t2m.io/Cu0qOVD
https://t2m.io/pSKs052
https://t2m.io/oQSO0dA
https://t2m.io/v05veO9
https://t2m.io/hSo9p66
https://t2m.io/P3Jcj85
https://t2m.io/ts4HS2f
https://t2m.io/5C8e4Nc
https://t2m.io/pHa1jpA
https://t2m.io/jeMxRNP
https://t2m.io/Lv7RODm
https://t2m.io/E2iHB3v
https://t2m.io/YZyBzTd
https://t2m.io/wHut7Op
https://t2m.io/cC6vDkE
https://t2m.io/FMSMq29
https://t2m.io/KuzXqFZ
https://t2m.io/a60R3MJ
https://t2m.io/00S7yMQ
https://t2m.io/wF5BLtE
https://t2m.io/buqL6Ej
https://t2m.io/htRQumw
https://t2m.io/48avEow
https://t2m.io/trb46ja
https://t2m.io/mZnuZK0
https://t2m.io/quXvWHn
https://t2m.io/uZkPdQV
https://t2m.io/peeruQx
https://t2m.io/3VXX3KU
https://t2m.io/AWYQO8Q
https://t2m.io/GgAaqjm
https://t2m.io/Z7ZQX18
https://t2m.io/xSQnjDf
https://t2m.io/8ttV5qq
https://t2m.io/C5ZydR6
https://t2m.io/QN3SiB9
https://t2m.io/UyjLn21
https://t2m.io/VXcETKQ
https://t2m.io/NeO63bc
https://t2m.io/y6widoP
https://t2m.io/pbrvipe
https://t2m.io/q61tQyo
https://t2m.io/U54sq8O
https://t2m.io/eRhcGeg
https://t2m.io/ffh0bp6
https://t2m.io/QtELU5Q
https://t2m.io/1ScpUtY
https://t2m.io/coGgBrY
https://t2m.io/fAqhqM6
https://t2m.io/rLV0qDg
https://t2m.io/p4k687r
https://t2m.io/mYFVuPu
https://t2m.io/tW13O0Z
https://t2m.io/Gm0HnXY
https://t2m.io/RHCHib7
https://t2m.io/Rcm4sby
https://t2m.io/5S6EGr8
https://t2m.io/tRqa6Su
https://t2m.io/hnL4LMY
https://t2m.io/pjNi5EK
https://t2m.io/Swr5Fgz
https://t2m.io/tNML1XW
https://t2m.io/GAz2kyY
https://t2m.io/QH8GKn4
https://t2m.io/ZHgKEiD
https://t2m.io/cVfQpCd
https://t2m.io/S1VTky8
https://t2m.io/O6tinsS
https://t2m.io/9MBgc9a
https://t2m.io/7SR8S2h
https://t2m.io/1OvjrTH
https://t2m.io/OR3hK2h
https://t2m.io/7ayCnet
https://t2m.io/vJhs6GW
https://t2m.io/5aHCAcs
https://t2m.io/wCJTz7e
https://t2m.io/2WpPLCj
https://t2m.io/H2SsZQ5
https://t2m.io/WCgQvOr
https://t2m.io/YALmaVR
https://t2m.io/vPm4B2G
https://t2m.io/4zaSPsf
https://t2m.io/AiH1zzk
https://t2m.io/x7bWAmF
https://t2m.io/dZ857Vv
https://t2m.io/yDOBtbE
https://t2m.io/iTh641o
https://t2m.io/mqeKCzH
https://t2m.io/ASQ2NAT
https://t2m.io/ENMjSkp
https://t2m.io/UbFek5s
https://t2m.io/EZRiT58
https://t2m.io/FaFTEcj
https://t2m.io/ztsQpcj
https://t2m.io/9tgn7Cc
https://t2m.io/WEGpzMh
https://t2m.io/tCfWxrP
https://t2m.io/8Qck1pm
https://t2m.io/6jCNhBk
https://t2m.io/ZJQkvar
https://t2m.io/OgeDzae
https://t2m.io/550Lp7a
https://t2m.io/sWRjhZh
https://t2m.io/CpeM6an
https://t2m.io/LohhxyA
https://t2m.io/MDyDdwB
https://t2m.io/vmh9HGD
https://t2m.io/aGTa6vO
https://t2m.io/bQLLgRX
https://t2m.io/AAaC5Fg
https://t2m.io/RgjOBPH
https://t2m.io/XrijGkJ
https://t2m.io/LkizuyS
https://t2m.io/0vzXLW0
https://t2m.io/i1nFw00
https://t2m.io/81kn65e
https://t2m.io/efk4m0v
https://t2m.io/59PB1FA
https://t2m.io/EECfDM0
https://t2m.io/hUC3DK5
https://t2m.io/weGphYf
https://t2m.io/aEs7N9X
https://t2m.io/O2z7yq4
https://t2m.io/DWLr0vZ
https://t2m.io/wx1U4L3
https://t2m.io/yKeWMH5
https://t2m.io/ZBoGFEk
https://t2m.io/WpCwu4Y
https://t2m.io/LQLbW42
https://t2m.io/ZNXkJnV
https://t2m.io/A5KKWhN
https://t2m.io/n1XMoyu
https://t2m.io/zYByHRy
https://t2m.io/DCVMih8
https://t2m.io/925emMW
https://t2m.io/4zzmpJL
https://t2m.io/10YzjKW
https://t2m.io/oqZqUq4
https://t2m.io/Jxj7xNf
https://t2m.io/SNKfams
https://t2m.io/VAAeT5n
https://t2m.io/UOPXdnT
https://t2m.io/EfDXztK
https://t2m.io/Z6nfA3N
https://t2m.io/Ejki181
https://t2m.io/XHF6cLP
https://t2m.io/fgWyZ9r
https://t2m.io/HF7Ka9Y
https://t2m.io/Qkk971R
https://t2m.io/z46RYRS
https://t2m.io/pZXNy70
https://t2m.io/sN3L7pN
https://t2m.io/UzqYqUs
https://t2m.io/F8iKXF4
https://t2m.io/PZGKHYJ
https://t2m.io/pyfD83F
https://t2m.io/B6VSm1g
https://t2m.io/Vu54AUC
https://t2m.io/sFkuA9g
https://t2m.io/SQk9Sxs
https://t2m.io/kbaRkyx
https://t2m.io/YV5B7vi
https://t2m.io/ufZLTNW
https://t2m.io/oJUOLif
https://t2m.io/Ln1kv8e
https://t2m.io/F4h83d2
https://t2m.io/do7mdM2
https://t2m.io/aNxvxv0
https://t2m.io/zWrHAjo
https://t2m.io/V7EYkS8
https://t2m.io/n5wu9Up
https://t2m.io/FkMuNem
https://t2m.io/o7jRtJm
https://t2m.io/01R6vHp
https://t2m.io/ggQC2R6
https://t2m.io/8Rz0PHu
https://t2m.io/MLY6b0h
https://t2m.io/2znWV5C
https://t2m.io/Ytk5qwE
https://t2m.io/4QufpKr
https://t2m.io/RoPEF9a
https://t2m.io/QggB1PX
https://t2m.io/yQ2k67F
https://t2m.io/JX5HPHK
https://t2m.io/Y1e7t1J
https://t2m.io/ky1OodK
https://t2m.io/o8bbgWP
https://t2m.io/ziZuVtp
https://t2m.io/0UAGrMd
https://t2m.io/pGmUmB7
https://t2m.io/TWMtk9r
https://t2m.io/6UjxTAM
https://t2m.io/sVZr0YZ
https://t2m.io/9xKc27K
https://t2m.io/5PRinMO
https://t2m.io/2aA0WCn
https://t2m.io/fC0q1vh
https://t2m.io/bX8efmE
https://t2m.io/YkzNHg5
https://t2m.io/cRovxxw
https://t2m.io/4BVZXyO
https://t2m.io/RLknGo4
https://t2m.io/fVcrg0j
https://t2m.io/7s45gfq
https://t2m.io/9cWNEWH
https://t2m.io/MxtGNyG
https://t2m.io/jj145uN
https://t2m.io/ewoqUNJ
https://t2m.io/MyEquxE
https://t2m.io/TpkUq17
https://t2m.io/5jchpg2
https://t2m.io/Bd2WD15
https://t2m.io/g8x70cB
https://t2m.io/Dec7B4n
https://t2m.io/LcNH4Yz
https://t2m.io/ZpntKdM
https://t2m.io/efQvJar
https://t2m.io/fxVNTKK
https://t2m.io/1qyCCWY
https://t2m.io/DPk9u1d
https://t2m.io/02AZxBh
https://t2m.io/frv5mVv
https://t2m.io/2ajOJzS
https://t2m.io/X9dLv1y
https://t2m.io/xBiuPfn
https://t2m.io/uFyF1PM
https://t2m.io/NSsczTU
https://t2m.io/g3qm9GE
https://t2m.io/BYYC5Cd
https://t2m.io/ONTVPon
https://t2m.io/T9xo0kt
https://t2m.io/Z3jmZN8
https://t2m.io/Amnw47H
https://t2m.io/6cGNK0R
https://t2m.io/SNW3z2E
https://t2m.io/RP8sDPN
https://t2m.io/J3C40EL
https://t2m.io/3rnGJCC
https://t2m.io/vgCoe5P
https://t2m.io/e9Yb3pq
https://t2m.io/3ybY5Z9
https://t2m.io/JQbRzPd
https://t2m.io/PhP1B2x
https://t2m.io/CxhdSru
https://t2m.io/RTVAadE
https://t2m.io/VdCWiY5
https://t2m.io/C5v9wcb
https://t2m.io/hfgZbaG
https://t2m.io/bCOVv9x
https://t2m.io/coV6NVH
https://t2m.io/DZkQtUM
https://t2m.io/JKCEgmV
https://t2m.io/irdgwdL
https://t2m.io/JgFevak
https://t2m.io/ojiFsd6
https://t2m.io/X0cpFwD
https://t2m.io/DrQG5Qf
https://t2m.io/uXseq8v
https://t2m.io/qLcO9SO
https://t2m.io/ebA8zts
https://t2m.io/hbtcZj2
https://t2m.io/efTYaEP
https://t2m.io/FgDeAOn
https://t2m.io/jbesUeX
https://t2m.io/JVEA6zb
https://t2m.io/irS4Xpb
https://t2m.io/XSExkD7
https://t2m.io/HbUEwqj
https://t2m.io/yur6TU5
https://t2m.io/76t2Pd4
https://t2m.io/ZRqM9VL
https://t2m.io/nO5X8RF
https://t2m.io/qXyeGS5
https://t2m.io/FEfhMBr
https://t2m.io/ENctAwh
https://t2m.io/uosZwVV
https://t2m.io/Vi0thiO
https://t2m.io/CzAJh0z
https://t2m.io/41CD6yL
https://t2m.io/pYw7kth
https://t2m.io/LGvK93u
https://t2m.io/YPMDPzt
https://t2m.io/unmxjPN
https://t2m.io/4eLqzX2
https://t2m.io/d1AMqt2
https://t2m.io/We7zQuK
https://t2m.io/ErzbFy2
https://t2m.io/stfFX6G
https://t2m.io/Dmzh2dv
https://t2m.io/7d34dL5
https://t2m.io/SzU0C35
https://t2m.io/3Ve2guG
https://t2m.io/MVxFE20
https://t2m.io/BZ8jO4O
https://t2m.io/mpj0EZj
https://t2m.io/7mMqKrv
https://t2m.io/nKOSCrU
https://t2m.io/vS07A5T
https://t2m.io/PukS2St
https://t2m.io/9fJQOJM
https://t2m.io/cUUexoU
https://t2m.io/fixw7jO
https://t2m.io/0tk2WFJ
https://t2m.io/kZG3tL6
https://t2m.io/BtSFVoF
https://t2m.io/5UK47yL
https://t2m.io/Prt7JLC
https://t2m.io/hZJqdZq
https://t2m.io/wD9JikW
https://t2m.io/pOLaB5q
https://t2m.io/0yF3mae
https://t2m.io/xt4N32J
https://t2m.io/wgnXpAB
https://t2m.io/T8TU9Zk
https://t2m.io/ObUhwaZ
https://t2m.io/8TOw5Uq
https://t2m.io/6Li8pE9
https://t2m.io/uuLiBzq
https://t2m.io/QdfJxSN
https://t2m.io/N1P181a
https://t2m.io/4aoLBEO
https://t2m.io/AvHOTQz
https://t2m.io/qVCqUJZ
https://t2m.io/7ZXBnwt
https://t2m.io/vqDGxvT
https://t2m.io/8iSuvpH
https://t2m.io/4JhY9Q5
https://t2m.io/QhUJnJY
https://t2m.io/dqTHnU6
https://t2m.io/iLAZ0sv
https://t2m.io/Hoh27nE
https://t2m.io/3PD96Nb
https://t2m.io/tUMFmwB
https://t2m.io/NeDzgbV
https://t2m.io/XGA8tio
https://t2m.io/VyPWtyM
https://t2m.io/JDigHNu
https://t2m.io/CcKy0yk
https://t2m.io/PmgTs5U
https://t2m.io/qQtrVhx
https://t2m.io/r5pnnRD
https://t2m.io/R4Ao8vM
https://t2m.io/umTbxKu
https://t2m.io/9Dadbit
https://t2m.io/DYMkMrt
https://t2m.io/Qme46UE
https://t2m.io/8yXMejB
https://t2m.io/mN5nGX1
https://t2m.io/K2eeVip
https://t2m.io/HUN2wxW
https://t2m.io/R2sCUje
https://t2m.io/cSeMpOC
https://t2m.io/KJZHDFw
https://t2m.io/H2yU4Vx
https://t2m.io/cnXorZ5
https://t2m.io/RRqB0od
https://t2m.io/GnptTi3
https://t2m.io/B6BsKhv
https://t2m.io/thLQ8yY
https://t2m.io/zKAcS8Q
https://t2m.io/wqURFnY
https://t2m.io/V8CZPjL
https://t2m.io/9dOaqQP
https://t2m.io/hxKOLbO
https://t2m.io/Q2SjfiD
https://t2m.io/ZD06nup
https://t2m.io/NLm24mK
https://t2m.io/tXOqdU4
https://t2m.io/bFvTxBa
https://t2m.io/nf10gnJ
https://t2m.io/iJanntN
https://t2m.io/m71ivLL
https://t2m.io/DUmCVjk
https://t2m.io/iH5GRf0
https://t2m.io/LdvJkRD
https://t2m.io/zmJzBfP
https://t2m.io/zqHpFFo
https://t2m.io/eeztOvd
https://t2m.io/P2DdcLi
https://t2m.io/krFsRTJ
https://t2m.io/en3gfyj
https://t2m.io/5gp9iPp
https://t2m.io/Syjf1Ha
https://t2m.io/NPC9E2p
https://t2m.io/DCPSRqp
https://t2m.io/HqD7vKn
https://t2m.io/429hDOr
https://t2m.io/j6tr5kV
https://t2m.io/RPgRyWc
https://t2m.io/2t0kxqE
https://t2m.io/ZiO1Jvc
https://t2m.io/ravxe0u
https://t2m.io/GyAgBQZ
https://t2m.io/UJD04yA
https://t2m.io/6RPJRc6
https://t2m.io/D8g3Lcv
https://t2m.io/Ony2pPs
https://t2m.io/uAnyCJf
https://t2m.io/aP9gSrx
https://t2m.io/ZUwEgOy
https://t2m.io/xAt5M0S
https://t2m.io/chSx3DX
https://t2m.io/1V9VADy
https://t2m.io/LMmHdkN
https://t2m.io/nGHEsWb
https://t2m.io/eFn8sYC
https://t2m.io/EmgPBWc
https://t2m.io/Bo9Tife
https://t2m.io/4ePEWgS
https://t2m.io/utq9bx5
https://t2m.io/qRGqzwD
https://t2m.io/1fxqydo
https://t2m.io/vhf3Jpg
https://t2m.io/TXyOL8M
https://t2m.io/3yuVHAi
https://t2m.io/K45Qe3w
https://t2m.io/nmamFKy
https://t2m.io/TBe9YXK
https://t2m.io/O9LyopZ
https://t2m.io/EsJKmUe
https://t2m.io/qRKxZnb
https://t2m.io/VswN9Y8
https://t2m.io/MQz16Bm
https://t2m.io/ombLEa7
https://t2m.io/MgWxAdC
https://t2m.io/X77tGoa
https://t2m.io/WbLvcsF
https://t2m.io/n0auRKV
https://t2m.io/ba3To1L
https://t2m.io/T3BUBWJ
https://t2m.io/kuLo4UB
https://t2m.io/7DdBGfV
https://t2m.io/k5TEMOp
https://t2m.io/VMM4nx5
https://t2m.io/am8zsYs
https://t2m.io/KGjM1rv
https://t2m.io/BDQ5VbW
https://t2m.io/3vYiOBJ
https://t2m.io/HghG6CL
https://t2m.io/mWTcRtR
https://t2m.io/gifzeGq
https://t2m.io/SqPqzg9
https://t2m.io/uRqVvMs
https://t2m.io/Jff1VUC
https://t2m.io/GQaeeBA
https://t2m.io/EBOyq2H
https://t2m.io/HoPUmV9
https://t2m.io/v6SwMQ4
https://t2m.io/2or7DW2
https://t2m.io/BtY35ZC
https://t2m.io/a82ydQD
https://t2m.io/ey6AHhG
https://t2m.io/MRH6Dds
https://t2m.io/jEuVj63
https://t2m.io/jTgGdba
https://t2m.io/O1Oo9QZ
https://t2m.io/Z194zZC
https://t2m.io/fywoh9a
https://t2m.io/4W35mda
https://t2m.io/qUKQTNc
https://t2m.io/VC4JqVV
https://t2m.io/qbFGrTG
https://t2m.io/1a8ZxSF
https://t2m.io/PKH4tQB
https://t2m.io/TFGAnEj
https://t2m.io/cxODm11
https://t2m.io/KsuyFD0
https://t2m.io/TkJUwrj
https://t2m.io/kiUbn74
https://t2m.io/R9YoyKj
https://t2m.io/zqaSkOn
https://t2m.io/FSWaCoh
https://t2m.io/izRq2v7
https://t2m.io/jcE0Ma5
https://t2m.io/mwoGm4C
https://t2m.io/bergi0Q
https://t2m.io/re96HLg
https://t2m.io/7NEqGpm
https://t2m.io/WL6ApRB
https://t2m.io/QXJyyFs
https://t2m.io/GUgX64Z
https://t2m.io/wBuxyiu
https://t2m.io/Y8v0Cy9
https://t2m.io/UpAvhoP
https://t2m.io/FivJfNM
https://t2m.io/B4ZrL5k
https://t2m.io/a7XOWYU
https://t2m.io/wZvbPP7
https://t2m.io/GhUSbFY
https://t2m.io/Y8bYEHV
https://t2m.io/VKxB7ub
https://t2m.io/QY2pQsP
https://t2m.io/GxvPoP1
https://t2m.io/ZF3nOqH
https://t2m.io/oac157M
https://t2m.io/QWRbzPd
https://t2m.io/aFepd09
https://t2m.io/8BRF15Z
https://t2m.io/OrgmtVf
https://t2m.io/37oCtcR
https://t2m.io/4eLzLpv
https://t2m.io/Bi43ADm
https://t2m.io/QzabvWQ
https://t2m.io/q54XBC5
https://t2m.io/1ZBri9X
https://t2m.io/1NwO9Gw
https://t2m.io/mQZPvLH
https://t2m.io/rxpnpfe
https://t2m.io/kHoXJMt
https://t2m.io/GYs4A0J
https://t2m.io/nqHpEvD
https://t2m.io/sVYrN1B
https://t2m.io/1dSpv6p
https://t2m.io/OJZFyz3
https://t2m.io/3sU0nmq
https://t2m.io/uJ8NpdP
https://t2m.io/KCyijX4
https://t2m.io/0SUFeJU
https://t2m.io/HKSYWeM
https://t2m.io/ZTJBOeE
https://t2m.io/aHYWGcN
https://t2m.io/xAU8s8c
https://t2m.io/yvF6aWD
https://t2m.io/LOoXBYB
https://t2m.io/gMc0zAS
https://t2m.io/RmVJQ84
https://t2m.io/jQcoiMv
https://t2m.io/3ukeHWJ
https://t2m.io/G7KPgiv
https://t2m.io/BRth7e1
https://t2m.io/KNTBcXK
https://t2m.io/8TKb6fB
https://t2m.io/4Amd7wq
https://t2m.io/jwwgYEK
https://t2m.io/F1rutYm
https://t2m.io/niZseuf
https://t2m.io/d5RCTsN
https://t2m.io/bxXk6K8
https://t2m.io/cYkME5S
https://t2m.io/LWJ50N9
https://t2m.io/ccyaHGg
https://t2m.io/RMMV6WJ
https://t2m.io/09ucNv5
https://t2m.io/KetQTsf
https://t2m.io/VbWp3FZ
https://t2m.io/1jQwhro
https://t2m.io/FUjpDhD
https://t2m.io/sLHzXk1
https://t2m.io/hOZZ1FY
https://t2m.io/UeLtwX9
https://t2m.io/Unu4V4r
https://t2m.io/wBAf8Bx
https://t2m.io/dAUwPRE
https://t2m.io/NBTnz0M
https://t2m.io/NnD0Bn6
https://t2m.io/awup2F1
https://t2m.io/Vg4jFFy
https://t2m.io/CJ4EkpN
https://t2m.io/zhGyyMu
https://t2m.io/8DEcOQ5
https://t2m.io/Fx11DAP
https://t2m.io/Vy7Wch1
https://t2m.io/fYNc0js
https://t2m.io/4MP7EPm
https://t2m.io/yyBqomK
https://t2m.io/PzxgH1s
https://t2m.io/zqSzprB
https://t2m.io/HjPyBPx
https://t2m.io/L4my9rM
https://t2m.io/yzq6B5N
https://t2m.io/Tf5JwBf
https://t2m.io/JNDVH6U
https://t2m.io/VtPoKmE
https://t2m.io/5Q5CYMe
https://t2m.io/GTnnzDD
https://t2m.io/AiE706a
https://t2m.io/nQvtB1r
https://t2m.io/fLUF2q7
https://t2m.io/trVhzfs
https://t2m.io/Rg7bq38
https://t2m.io/yQVRRFX
https://t2m.io/9Qt0RW5
https://t2m.io/EqdUN35
https://t2m.io/aRLXXNZ
https://t2m.io/t7t3Boc
https://t2m.io/kM0Fb2h
https://t2m.io/LrRo1fp
https://t2m.io/3mu9fU3
https://t2m.io/4a2Jpp4
https://t2m.io/BKOvYtw
https://t2m.io/9zYzFB8
https://t2m.io/HFo7syi
https://t2m.io/csz85qa
https://t2m.io/oGzAYBm
https://t2m.io/r9h7P7x
https://t2m.io/YkVLaR3
https://t2m.io/PrjPKBr
https://t2m.io/jTfWGux
https://t2m.io/qoshzrE
https://t2m.io/gQx7SHz
https://t2m.io/oebmLDo
https://t2m.io/pfAOJGM
https://t2m.io/f8mUPDT
https://t2m.io/kPWXLvW
https://t2m.io/vsuQgm1
https://t2m.io/oGQC3J9
https://t2m.io/CRtLU88
https://t2m.io/VQUrCjO
https://t2m.io/TXBhOPa
https://t2m.io/fPFLHN4
https://t2m.io/pRbx8zY
https://t2m.io/LrUHVqm
https://t2m.io/4Z8i2mP
https://t2m.io/5anJLTD
https://t2m.io/shofRrk
https://t2m.io/y1Gg1C3
https://t2m.io/igL1fF2
https://t2m.io/VJsv3kR
https://t2m.io/hDnYkVG
https://t2m.io/Uxt6PNX
https://t2m.io/mMJPqnW
https://t2m.io/jCGMREE
https://t2m.io/Zo8nCOs
https://t2m.io/DTwiB3x
https://t2m.io/Wr1xU66
https://t2m.io/UreAtoq
https://t2m.io/t3aJoEM
https://t2m.io/K8H868s
https://t2m.io/8qQGJFJ
https://t2m.io/uEe8hxV
https://t2m.io/72UY8DF
https://t2m.io/kCGAS4f
https://t2m.io/cvWLgH7
https://t2m.io/1nXQWcJ
https://t2m.io/RkJNxmw
https://t2m.io/ry5NMO6
https://t2m.io/8cKwEoW
https://t2m.io/9cGaTgZ
https://t2m.io/X9f3v5g
https://t2m.io/5O6EyQg
https://t2m.io/fbCLrrQ
https://t2m.io/MCOdn7f
https://t2m.io/w8tV4nM
https://t2m.io/xs9cUsX
https://t2m.io/Q8NzLQK
https://t2m.io/DponySm
https://t2m.io/5dn3T1Q
https://t2m.io/astafvL
https://t2m.io/3uv4d9g
https://t2m.io/07ehiGE
https://t2m.io/6dyazha
https://t2m.io/1Hx2zeY
https://t2m.io/DjdfqXy
https://t2m.io/CyHR39t
https://t2m.io/pcOwpMX
https://t2m.io/QChktLk
https://t2m.io/Oc92CkP
https://t2m.io/vWsXEQo
https://t2m.io/j05nkdj
https://t2m.io/67sQ2S1
https://t2m.io/H0KW23B
https://t2m.io/ydtDgnn
https://t2m.io/dKyzZYK
https://t2m.io/Jhz4bCr
https://t2m.io/Y0KqGWi
https://t2m.io/hKQ8CaR
https://t2m.io/gVTNugk
https://t2m.io/swaGM0m
https://t2m.io/BeAKkes
https://t2m.io/a5CEJab
https://t2m.io/prRbite
https://t2m.io/zZt9v94
https://t2m.io/H4kZh81
https://t2m.io/qchwQWg
https://t2m.io/avBa8Za
https://t2m.io/b5att6a
https://t2m.io/Uw1nm9v
https://t2m.io/v5r8EEc
https://t2m.io/wAeq2m7
https://t2m.io/FWV3zRS
https://t2m.io/OidGd80
https://t2m.io/TrjUpW0
https://t2m.io/jfXUwuj
https://t2m.io/ten2w5j
https://t2m.io/FEckdiL
https://t2m.io/vCTog0J
https://t2m.io/ASUzPub
https://t2m.io/K4rw1cY
https://t2m.io/Db6FLoo
https://t2m.io/O0UpjJz
https://t2m.io/spSNhrg
https://t2m.io/G8JQspH
https://t2m.io/OH5Vn36
https://t2m.io/8w1MgTR
https://t2m.io/GZmzcSN
https://t2m.io/10HkrrA
https://t2m.io/XH0vBux
https://t2m.io/4V8abQi
https://t2m.io/jmwBAth
https://t2m.io/1xW8VRA
https://t2m.io/1RnZOSO
https://t2m.io/ogWDxFZ
https://t2m.io/2Xzd2KU
https://t2m.io/DyY1V15
https://t2m.io/faG5nDD
https://t2m.io/fjnjnAT
https://t2m.io/B5w1tbP
https://t2m.io/3Fw3qxL
https://t2m.io/k7xTcUw
https://t2m.io/j331kye
https://t2m.io/d9mOgdp
https://t2m.io/59oC8dm
https://t2m.io/q9tREZG
https://t2m.io/fM5reSi
https://t2m.io/Zi7iNtq
https://t2m.io/LdteMmk
https://t2m.io/2HFVEmL
https://t2m.io/b5i8FBW
https://t2m.io/R9szRdY
https://t2m.io/pWVtjzP
https://t2m.io/bmku0J4
https://t2m.io/OA4rzZQ
https://t2m.io/wu9EWu7
https://t2m.io/WmUWQJO
https://t2m.io/EC9V0eC
https://t2m.io/SVEfqM6
https://t2m.io/Ato44ei
https://t2m.io/HewwJYf
https://t2m.io/yNLtLQY
https://t2m.io/JU1FsGP
https://t2m.io/dGsLjKj
https://t2m.io/6Q3cFya
https://t2m.io/ktDLMqd
https://t2m.io/38YwsrO
https://t2m.io/4k2BBVP
https://t2m.io/B3EwYip
https://t2m.io/PMhAJwu
https://t2m.io/h7z0J9Z
https://t2m.io/inZ9dLp
https://t2m.io/RjmDbzg
https://t2m.io/auNR8hq
https://t2m.io/VDnNKhH
https://t2m.io/GnOjuTm
https://t2m.io/QPxx2J0
https://t2m.io/emK8v0c
https://t2m.io/8AmcoSy
https://t2m.io/Xs3dTeM
https://t2m.io/Wfwvr5D
https://t2m.io/EMgKYMy
https://t2m.io/b6kbRjF
https://t2m.io/70DtUow
https://t2m.io/Mds7Eqx
https://t2m.io/y9EVYLp
https://t2m.io/WXuKpYJ
https://t2m.io/GTAdYWS
https://t2m.io/GJgdRBy
https://t2m.io/xN33z64
https://t2m.io/wLJnxMM
https://t2m.io/ijNz0hN
https://t2m.io/QGSGdSB
https://t2m.io/iUWng0t
https://t2m.io/LTgTK7f
https://t2m.io/c323orq
https://t2m.io/c9GO4wp
https://t2m.io/2hTkEq7
https://t2m.io/gHc4MJW
https://t2m.io/HZ01GhS
https://t2m.io/84zP3OY
https://t2m.io/PsAuFr5
https://t2m.io/tmH8y8O
https://t2m.io/sqi3bDk
https://t2m.io/VE6ZYUA
https://t2m.io/MS5T558
https://t2m.io/3F21ndA
https://t2m.io/rH8LFyL
https://t2m.io/Oaetxqr
https://t2m.io/uh34XD3
https://t2m.io/goGs8kf
https://t2m.io/7FusPja
https://t2m.io/2o6ULtY
https://t2m.io/ato5QOP
https://t2m.io/ePNQPFN
https://t2m.io/gsKFdws
https://t2m.io/e3L0CcB
https://t2m.io/xKzApfS
https://t2m.io/7P6gLVT
https://t2m.io/3G8ZfFx
https://t2m.io/Y8svx6F
https://t2m.io/Aycjjm3
https://t2m.io/kCgpq2a
https://t2m.io/Pz4gBpk
https://t2m.io/2CK7wYa
https://t2m.io/BOd2aTn
https://t2m.io/8PLypLr
https://t2m.io/90WA5aU
https://t2m.io/sqTX2Nz
https://t2m.io/1VP0Pvz
https://t2m.io/ztgPSuL
https://t2m.io/PO35gic
https://t2m.io/pkDf8m6
https://t2m.io/Sovcdrz
https://t2m.io/BujL4pk
https://t2m.io/8YyROag
https://t2m.io/YcexZ1x
https://t2m.io/9K1hmd0
https://t2m.io/mhi0hAV
https://t2m.io/2hS2usz
https://t2m.io/FauSYBh
https://t2m.io/XdsovXT
https://t2m.io/bqz8JSV
https://t2m.io/8djLJr7
https://t2m.io/OpRDpu3
https://t2m.io/KbW9Z7A
https://t2m.io/ure3Phz
https://t2m.io/5i4H5Zd
https://t2m.io/umbGJkf
https://t2m.io/nBdFLZz
https://t2m.io/RzsDm5f
https://t2m.io/Qm4EzDS
https://t2m.io/8nYLWvk
https://t2m.io/xnH9QC0
https://t2m.io/LL1JTkX
https://t2m.io/03dvr6m
https://t2m.io/Fe9mLJZ
https://t2m.io/E8unjCD
https://t2m.io/z3GNUxR
https://t2m.io/p2oOgyv
https://t2m.io/FF66peA
https://t2m.io/qNEgt9Q
https://t2m.io/1JQQBjA
https://t2m.io/JmqKxkW
https://t2m.io/yMbY50E
https://t2m.io/D08T5NP
https://t2m.io/e6PoYvy
https://t2m.io/Fd3py91
https://t2m.io/DMqz5YU
https://t2m.io/MCGaH2n
https://t2m.io/BOPyuVA
https://t2m.io/sH6N2rw
https://t2m.io/G3MJvFg
https://t2m.io/4peBkgJ
https://t2m.io/NarMkQx
https://t2m.io/Fo5K6x6
https://t2m.io/pORLeSr
https://t2m.io/kPgEbi1
https://t2m.io/HZRSOyF
https://t2m.io/pqch1cZ
https://t2m.io/ttOGOmX
https://t2m.io/ZhBBdhF
https://t2m.io/FjUqep2
https://t2m.io/GZXXEDc
https://t2m.io/Gj69Hig
https://t2m.io/b1FTOdu
https://t2m.io/3d85dP4
https://t2m.io/xz6WmW5
https://t2m.io/bhXuuqN
https://t2m.io/M8N5wuP
https://t2m.io/05yGyDU
https://t2m.io/CRhKYic
https://t2m.io/OkywR0x
https://t2m.io/JKb6NGq
https://t2m.io/KhwRht4
https://t2m.io/HAwKET5
https://t2m.io/C86fGET
https://t2m.io/NcaYU9T
https://t2m.io/iS3UmRY
https://t2m.io/aYt0P0h
https://t2m.io/VWLA1z6
https://t2m.io/Y3SAKEG
https://t2m.io/ZOrRPsk
https://t2m.io/h9XPyE4
https://t2m.io/S6ceJqB
https://t2m.io/dbFtzHR
https://t2m.io/uEQtstF
https://t2m.io/oGY7SDi
https://t2m.io/Qm0JEd3
https://t2m.io/YCUWhrU
https://t2m.io/hUNL2Dz
https://t2m.io/GPYgQcT
https://t2m.io/uZ0m4J8
https://t2m.io/CeYvPqh
https://t2m.io/ZGZuBF9
https://t2m.io/0sw2JO6
https://t2m.io/rS1k278
https://t2m.io/jZCqqf6
https://t2m.io/dfDHRmq
https://t2m.io/YM9Vs5n
https://t2m.io/42rBEme
https://t2m.io/QkbGEft
https://t2m.io/EV9SptU
https://t2m.io/GYNf7Fi
https://t2m.io/uypStaN
https://t2m.io/WH5LCFj
https://t2m.io/NjjDKx2
https://t2m.io/q9KM06L
https://t2m.io/6BRjjvA
https://t2m.io/zbcy5jD
https://t2m.io/ie9APu5
https://t2m.io/mLsCrJ5
https://t2m.io/AYNHba0
https://t2m.io/4NX6Ftb
https://t2m.io/K2OF9B6
https://t2m.io/HaWZMOj
https://t2m.io/36qEMMO
https://t2m.io/n313LGk
https://t2m.io/DQx9U9Z
https://t2m.io/B4VcLa5
https://t2m.io/gdWzBv1
https://t2m.io/uS2FkLY
https://t2m.io/EuVx85V
https://t2m.io/i2t3G1D
https://t2m.io/mEjHnox
https://t2m.io/QYyVBxG
https://t2m.io/zOUsXJw
https://t2m.io/0j4abOk
https://t2m.io/PHhi33g
https://t2m.io/HtGriqA
https://t2m.io/GQXNRPW
https://t2m.io/DDs8NKO
https://t2m.io/eFX24P5
https://t2m.io/u0nAJo9
https://t2m.io/1kuDUS9
https://t2m.io/S7wG5xp
https://t2m.io/ZkfPvHH
https://t2m.io/myUDBGL
https://t2m.io/bcPCxn6
https://t2m.io/nNkbDuF
https://t2m.io/qDOJ4Pm
https://t2m.io/Ax22YgO
https://t2m.io/9shqn3e
https://t2m.io/MZYP8S4
https://t2m.io/Bb9ygMA
https://t2m.io/u6sjLRA
https://t2m.io/QOyv8Ra
https://t2m.io/TVJPOYN
https://t2m.io/rUySZHr
https://t2m.io/gwSogm4
https://t2m.io/x8A3ivW
https://t2m.io/OmH8EFh
https://t2m.io/2X5c30r
https://t2m.io/RRL5enN
https://t2m.io/MA89kBP
https://t2m.io/aU6tWfk
https://t2m.io/g90koH8
https://t2m.io/DY3w833
https://t2m.io/GBYZgHO
https://t2m.io/YbdsKBW
https://t2m.io/wJXDMUG
https://t2m.io/BMaGr79
https://t2m.io/VtjJZiQ
https://t2m.io/AbFuwXq
https://t2m.io/aVWDh00
https://t2m.io/kCpcsft
https://t2m.io/THmEraZ
https://t2m.io/1bb11sn
https://t2m.io/95GFuh2
https://t2m.io/Fm402tk
https://t2m.io/aRCs87e
https://t2m.io/Nta5ExU
https://t2m.io/av3br9P
https://t2m.io/qxMhwqO
https://t2m.io/HRyAPTh
https://t2m.io/q4e0EbS
https://t2m.io/80PivDn
https://t2m.io/pLAk0VV
https://t2m.io/h6KgM5j
https://t2m.io/yEP7Fnh
https://t2m.io/yn9ywkO
https://t2m.io/szTg4Qm
https://t2m.io/xeuXey2
https://t2m.io/j9ek8yy
https://t2m.io/KBVKGJH
https://t2m.io/uPmy21Z
https://t2m.io/yQWU8Hs
https://t2m.io/EYBpj80
https://t2m.io/YUnfz0z
https://t2m.io/CqMgN6r
https://t2m.io/o8M9AeO
https://t2m.io/49MeChV
https://t2m.io/2V682EB
https://t2m.io/FLMc66m
https://t2m.io/SWiwSJy
https://t2m.io/4QiZpto
https://t2m.io/SywnQFB
https://t2m.io/grix9Zt
https://t2m.io/5PDgaRR
https://t2m.io/BosXeg5
https://t2m.io/erTrOuP
https://t2m.io/MkqjLnx
https://t2m.io/EY2QLih
https://t2m.io/0DZYobx
https://t2m.io/0yGf0OR
https://t2m.io/A9e0Eab
https://t2m.io/pmhmFZk
https://t2m.io/XGL4CGn
https://t2m.io/0jc3sN5
https://t2m.io/coTOomf
https://t2m.io/bJXAPM6
https://t2m.io/pPrzPvq
https://t2m.io/CyHDueg
https://t2m.io/j8uoCaH
https://t2m.io/2FaA1H3
https://t2m.io/Uin3mhf
https://t2m.io/KfKi3Jw
https://t2m.io/AVSRRi9
https://t2m.io/Erpi0th
https://t2m.io/51F9r5N
https://t2m.io/Jfn7bkd
https://t2m.io/sDkerG0
https://t2m.io/nmbfpwb
https://t2m.io/zMO4ecT
https://t2m.io/HHYHXS7
https://t2m.io/YAbjWGs
https://t2m.io/LW0hT33
https://t2m.io/F9oJKQt
https://t2m.io/28JGeO0
https://t2m.io/6u4oO8P
https://t2m.io/Dv1D9Mt
https://t2m.io/oQwrmFV
https://t2m.io/1wAtz7e
https://t2m.io/EEa5G1V
https://t2m.io/x4VTNhd
https://t2m.io/30NgOQZ
https://t2m.io/FcZAfSC
https://t2m.io/98kvHiB
https://t2m.io/gKGCXxY
https://t2m.io/PAAV6KN
https://t2m.io/5YgiDc3
https://t2m.io/QQOqn1U
https://t2m.io/CeTFft0
https://t2m.io/ydSmC7k
https://t2m.io/grw3LAR
https://t2m.io/0o4sfxr
https://t2m.io/iVOYnVN
https://t2m.io/47OKvz3
https://t2m.io/XomogbZ
https://t2m.io/j62xec5
https://t2m.io/gLPMuSK
https://t2m.io/EEV2kMG
https://t2m.io/B7ka54p
https://t2m.io/d8ZeiqT
https://t2m.io/4LVQtGW
https://t2m.io/ZrQk5L9
https://t2m.io/arTGiSM
https://t2m.io/dkcMMNS
https://t2m.io/qhicsLo
https://t2m.io/RLHedpP
https://t2m.io/ddKtwmP
https://t2m.io/EeP7NLK
https://t2m.io/pMuJai2
https://t2m.io/NZxPTrT
https://t2m.io/wDygLbR
https://t2m.io/QGyqixd
https://t2m.io/ge74kE2
https://t2m.io/QAGPAOe
https://t2m.io/NMYATun
https://t2m.io/YpPc6ss
https://t2m.io/5UVbLLx
https://t2m.io/ftFcywp
https://t2m.io/RwToNUd
https://t2m.io/ZOG6vCA
https://t2m.io/e9HqU5p
https://t2m.io/XDH8stk
https://t2m.io/oDBSAbK
https://t2m.io/u77J4Yb
https://t2m.io/Mgp0q3X
https://t2m.io/1u9QCqy
https://t2m.io/TRbZhLR
https://t2m.io/DPkJr60
https://t2m.io/7cpoV3Y
https://t2m.io/P8ZqNjX
https://t2m.io/fQWHM2q
https://t2m.io/EPV7zbX
https://t2m.io/j4WGCde
https://t2m.io/sCsrUO8
https://t2m.io/9mKicGf
https://t2m.io/MS9Mh1z
https://t2m.io/DZq7JgS
https://t2m.io/vE6Y4cd
https://t2m.io/Ywrt4sr
https://t2m.io/hLvRxhi
https://t2m.io/UPcxrPv
https://t2m.io/oGryQTf
https://t2m.io/LFJHW48
https://t2m.io/1Zwqxti
https://t2m.io/VErJP8h
https://t2m.io/S80A47r
https://t2m.io/QcKEd7d
https://t2m.io/nwN9Pee
https://t2m.io/CRiy6MR
https://t2m.io/392TiEH
https://t2m.io/is8xdgA
https://t2m.io/euKL3S4
https://t2m.io/Uwdcv2u
https://t2m.io/zhORYzi
https://t2m.io/TjTnd3b
https://t2m.io/agp2qEW
https://t2m.io/J1bgZzr
https://t2m.io/dQ5d1Zx
https://t2m.io/R7JytVK
https://t2m.io/5VCkL0K
https://t2m.io/SsYFKqs
https://t2m.io/rzRm9Ho
https://t2m.io/NFmChCe
https://t2m.io/D9jJBz0
https://t2m.io/yoAinMd
https://t2m.io/yJp604S
https://t2m.io/BATgh6e
https://t2m.io/FPT8q2s
https://t2m.io/CUPNigD
https://t2m.io/12AC5De
https://t2m.io/iPu372j
https://t2m.io/qzkVzcB
https://t2m.io/XL6eEUo
https://t2m.io/AiziFBV
https://t2m.io/HYozXkT
https://t2m.io/fhJHCbc
https://t2m.io/uEzn0pB
https://t2m.io/AVSDydk
https://t2m.io/K0nhyzH
https://t2m.io/W1wgmnL
https://t2m.io/sjUGC3R
https://t2m.io/xZi6AMn
https://t2m.io/9XC54p5
https://t2m.io/ez7bkZE
https://t2m.io/Py8VNXU
https://t2m.io/mMGbXZ5
https://t2m.io/WkSx6nh
https://t2m.io/xqv7ixo
https://t2m.io/h5a9qh8
https://t2m.io/UqDaOo2
https://t2m.io/RyG8RzC
https://t2m.io/dLWnfby
https://t2m.io/Bd5CfOo
https://t2m.io/LsvEZRv
https://t2m.io/faHy6uO
https://t2m.io/30dTPDG
https://t2m.io/AaZCyVh
https://t2m.io/Jz1U1qm
https://t2m.io/RT2CPyM
https://t2m.io/VrNdgX8
https://t2m.io/bOsgBs1
https://t2m.io/mPczmQH
https://t2m.io/2UAs4A9
https://t2m.io/NQOD7EZ
https://t2m.io/oD1BX9J
https://t2m.io/SbCFmb5
https://t2m.io/aihFycs
https://t2m.io/tQnHPDw
https://t2m.io/d8rZiAg
https://t2m.io/jW4PawS
https://t2m.io/BFrEQA9
https://t2m.io/oq3oXCf
https://t2m.io/kQeuk5L
https://t2m.io/d1svmsY
https://t2m.io/hHjpqTJ
https://t2m.io/xh53fjw
https://t2m.io/vsL3ewV
https://t2m.io/gS6AkkJ
https://t2m.io/hi1aHsM
https://t2m.io/K7ZQgTG
https://t2m.io/gObOwUb
https://t2m.io/1YyaSR7
https://t2m.io/6agkwaP
https://t2m.io/xatD7dq
https://t2m.io/3czmc98
https://t2m.io/PEimQZA
https://t2m.io/pdpyxyO
https://t2m.io/YCj555f
https://t2m.io/vVNnc16
https://t2m.io/4j0aN53
https://t2m.io/jTetghg
https://t2m.io/byd7Rdt
https://t2m.io/qLsEebN
https://t2m.io/aa1z2Wi
https://t2m.io/FYgEebj
https://t2m.io/E08aFCt
https://t2m.io/6tmW1vX
https://t2m.io/7LcpZ2c
https://t2m.io/4MToFu6
https://t2m.io/1HdmkT5
https://t2m.io/MMFXL2U
https://t2m.io/NGSim6j
https://t2m.io/3GbTvMz
https://t2m.io/dyzaydf
https://t2m.io/keVopSW
https://t2m.io/d0L3xfT
https://t2m.io/CwcKqXx
https://t2m.io/Dzo5czh
https://t2m.io/RdpwLuE
https://t2m.io/vcGwVoe
https://t2m.io/CkOgpx3
https://t2m.io/PugF9Lh
https://t2m.io/V4ANDcZ
https://t2m.io/mrBuvyd
https://t2m.io/myRWmc2
https://t2m.io/oSNj5Zi
https://t2m.io/amMdJUS
https://t2m.io/Ex5zhOr
https://t2m.io/Xa2zsDY
https://t2m.io/b0g4eQJ
https://t2m.io/PBGfr39
https://t2m.io/a6hAaz8
https://t2m.io/sLLbMvf
https://t2m.io/uDxObHB
https://t2m.io/mKAUD3s
https://t2m.io/0TFHo6n
https://t2m.io/ztTehxv
https://t2m.io/Jm6LPdE
https://t2m.io/dtgzpUk
https://t2m.io/rxXqhga
https://t2m.io/DkrGJUa
https://t2m.io/xt8EfCs
https://t2m.io/fbycyHR
https://t2m.io/hKfpCyC
https://t2m.io/ALFLpqG
https://t2m.io/gvrma2w
https://t2m.io/QrJH0KX
https://t2m.io/XCoF6Fi
https://t2m.io/jUSNztX
https://t2m.io/wKJ7fK8
https://t2m.io/YDZsKqO
https://t2m.io/kuKON6B
https://t2m.io/k81Vuzn
https://t2m.io/AW9AmHE
https://t2m.io/gGV9gr8
https://t2m.io/1Y1ptC4
https://t2m.io/b9rHg5h
https://t2m.io/ONOs4J8
https://t2m.io/LJO1OhJ
https://t2m.io/w3UCMyX
https://t2m.io/p3AHYuL
https://t2m.io/oMMsPDi
https://t2m.io/fRLfNRa
https://t2m.io/cVRHVFL
https://t2m.io/jgMFMMp
https://t2m.io/tJn6dfZ
https://t2m.io/E4SsiaA
https://t2m.io/AnVKZsv
https://t2m.io/RHM48ih
https://t2m.io/AZmHRfy
https://t2m.io/uyXiphQ
https://t2m.io/gbs4GcX
https://t2m.io/LMNVqm5
https://t2m.io/AGAu3qp
https://t2m.io/hVoGpMq
https://t2m.io/B0xYsfp
https://t2m.io/Y8s5HPz
https://t2m.io/itN5cWm
https://t2m.io/cGZtDZJ
https://t2m.io/1fWOLyh
https://t2m.io/dQF1YOY
https://t2m.io/ZeY2mPh
https://t2m.io/WzBzx1N
https://t2m.io/ieLTRbY
https://t2m.io/QKE4VpO
https://t2m.io/NEhJkGO
https://t2m.io/eDKb51G
https://t2m.io/MUOaakJ
https://t2m.io/tsdnugE
https://t2m.io/QTELh74
https://t2m.io/qe5mTRa
https://t2m.io/MgHKPVY
https://t2m.io/84j6Eyv
https://t2m.io/xjGaWTF
https://t2m.io/AAoEHpQ
https://t2m.io/Vw11NNU
https://t2m.io/6ekJ6SK
https://t2m.io/9Rh2P73
https://t2m.io/R10uqUV
https://t2m.io/LN7RNHN
https://t2m.io/qUBVnMb
https://t2m.io/MDw1c6c
https://t2m.io/YcZf63q
https://t2m.io/uNmHS77
https://t2m.io/H3YL3Uj
https://t2m.io/kF6cJrT
https://t2m.io/cO5c9cv
https://t2m.io/kG5U7H2
https://t2m.io/S0dpcVS
https://t2m.io/kJ2v9Vz
https://t2m.io/pTSQn0P
https://t2m.io/uZqgooS
https://t2m.io/wYZaXF4
https://t2m.io/26h3cfE
https://t2m.io/XA4LEaQ
https://t2m.io/04Ot3hw
https://t2m.io/6KSQB2g
https://t2m.io/fPJFG9P
https://t2m.io/477Czvf
https://t2m.io/zL7COnH
https://t2m.io/YeJJbyk
https://t2m.io/TbHjzho
https://t2m.io/C3e2qYk
https://t2m.io/JYaTeeo
https://t2m.io/MikSLi2
https://t2m.io/eJfJyYK
https://t2m.io/PPoYceY
https://t2m.io/0RtT9Kd
https://t2m.io/NnVG4FP
https://t2m.io/0uVx5K2
https://t2m.io/Vi36GPk
https://t2m.io/n91fFyP
https://t2m.io/xZs9E6p
https://t2m.io/kgApn8U
https://t2m.io/tX3c8Bh
https://t2m.io/SgOO5VM
https://t2m.io/SVt6M2g
https://t2m.io/POek6xZ
https://t2m.io/HPFWp2k
https://t2m.io/x9NCsx0
https://t2m.io/W0EO4JJ
https://t2m.io/0oRvVaf
https://t2m.io/D71cDGg
https://t2m.io/Hh0pZWi
https://t2m.io/Fy1GqA9
https://t2m.io/97cKM9T
https://t2m.io/DTp7T0B
https://t2m.io/j87Rzha
https://t2m.io/3cHb65O
https://t2m.io/WRW4jqA
https://t2m.io/OivZYqb
https://t2m.io/GVJLM5Y
https://t2m.io/f78gRjb
https://t2m.io/RCqcVh7
https://t2m.io/kRaXLLu
https://t2m.io/3B9oO7E
https://t2m.io/hEH5oyX
https://t2m.io/q2h3oTi
https://t2m.io/fBFkAWN
https://t2m.io/gu0r24W
https://t2m.io/ZkyYFGs
https://t2m.io/z082LSL
https://t2m.io/L65K2G4
https://t2m.io/Lp5OuLW
https://t2m.io/99QFYOs
https://t2m.io/CqqogUy
https://t2m.io/wpfhb8O
https://t2m.io/mY5EDT8
https://t2m.io/NyvrDXT
https://t2m.io/vUquxfn
https://t2m.io/D97g2W8
https://t2m.io/sLDRX1U
https://t2m.io/qgOyZL3
https://t2m.io/VtLHQFS
https://t2m.io/W2MWTPz
https://t2m.io/8chSSua
https://t2m.io/jR8YPYM
https://t2m.io/As2B5bn
https://t2m.io/S0oMQYX
https://t2m.io/PvMnrtZ
https://t2m.io/RgYK3oY
https://t2m.io/82Z3Vbd
https://t2m.io/YvmbVq3
https://t2m.io/LMCQQBs
https://t2m.io/cp82FDA
https://t2m.io/Uw9EZtR
https://t2m.io/7UaZuhx
https://t2m.io/KSeUQj9
https://t2m.io/YCoPHdS
https://t2m.io/KkaJL7n
https://t2m.io/ibV9v2v
https://t2m.io/iF1z3Pw
https://t2m.io/Dg24umb
https://t2m.io/XSGcEUu
https://t2m.io/5CagLf8
https://t2m.io/Nqycga6
https://t2m.io/nuc9ba4
https://t2m.io/QAziVgk
https://t2m.io/PQNPF47
https://t2m.io/YwZusjs
https://t2m.io/N8KVH4W
https://t2m.io/WEJESFQ
https://t2m.io/wDm3grc
https://t2m.io/ZDHv6NB
https://t2m.io/QtVgvKU
https://t2m.io/mFd016b
https://t2m.io/Q8C1VUZ
https://t2m.io/rEhPFFJ
https://t2m.io/PBdx0M6
https://t2m.io/WKd8mxC
https://t2m.io/Xov6YDq
https://t2m.io/9AXnY5m
https://t2m.io/Nxfbmdd
https://t2m.io/JocOpux
Good morning. The focus for moderate to heavy rainfall has shifted to the coast and offshore this morning, putting down a considerable amount of rain in locations near Matagorda Bay. The Houston metro area will continue to see healthy rain chances through at least the middle of next week, but accumulations do not look all that significant, such that we should be worried about flooding. We also need to keep an eye on the tropics, which may start to blossom as we approach Labor Day Weekend. We'll discuss all of this below.
Thursday
With a weak boundary set up along the coast today, that's where the bulk of the precipitation will lie. If you live north of Interstate 10, skies should be partly to mostly sunny, with highs in the low 90s, and low rain chances. The closer you get to the coast, the greater the chance of clouds and rains, and accordingly highs should only reach the upper 80s to 90 degrees. Right along the coast, accumulations of 1 to 3 inches of rain are possible, but amounts will be much lower for areas just a bit inland. Winds will generally be light, out of the north. Lows tonight will be in the upper 70s.
Friday
Houston's atmosphere will remain in an unsettled pattern on Friday, and for the next several days, due to the absence of high pressure and fairly high atmospheric moisture levels. However, there appear to be no triggers for rainfall, so we're looking at a pattern where showers and thunderstorms are likely during the afternoon and evening hours, along with daytime heating and the sea breeze. Accordingly, expect highs in the low 90s on Friday, with partly sunny skies, and about a 50 percent chance of showers and thunderstorms during the afternoon and evening.
Saturday and Sunday
This forecast should more or less hold for the weekend. If you have morning plans outdoors, they should be fine. Things may become a little more challenging during the afternoons and evenings, with the potential for a passing shower or thunderstorm. Expect highs in the vicinity of 90 to 95 degrees.
Next week
As we head into September, don't expect too much of a pattern change. We'll continue to see highs in the low 90s, for the most part, with a healthy chance of afternoon showers and thunderstorms. These conditions will probably hold until the second half of next week, as we approach Labor Day weekend. After that time our weather may be influenced by the tropics.
Tropics
So far it has been an exceptionally quiet August for the Atlantic tropics, but we continue to see signs that is going to change. Moreover, one of the systems we're watching has a decent chance of moving into the Gulf of Mexico in about a week or so from now.
To illustrate this let's take a look at an ensemble forecast from the European model, which runs a few dozen variants of the main model to provide a range of outcomes. This is useful because if a lot of ensemble members have similar forecasts, then we can have a reasonable amount of confidence in such a forecast coming to pass. Below, in the ensemble model's forecast for one week from this morning, we can see the European model pinpointing three different areas for development.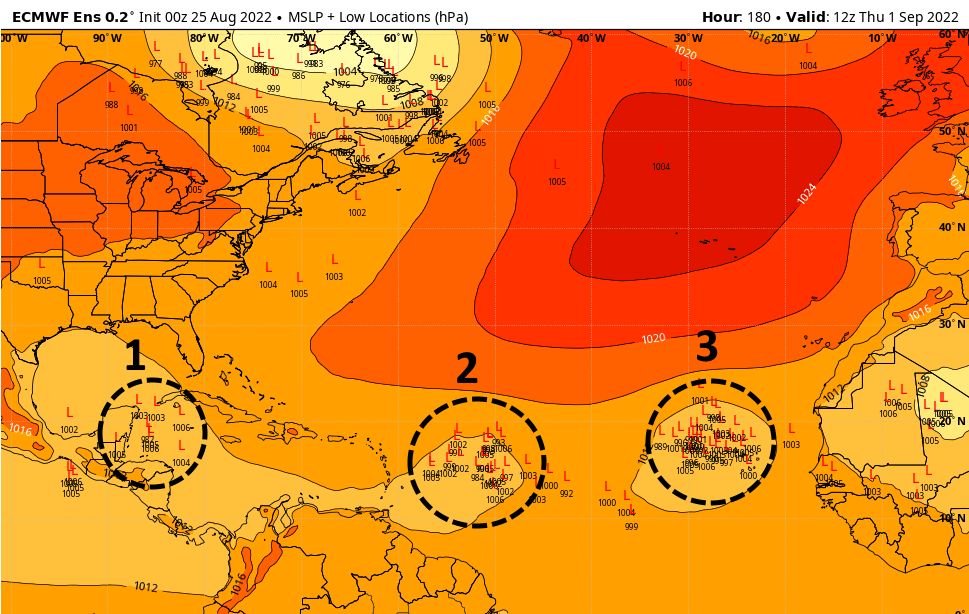 Of most concern to us is the blob I've marked "1." Both the European and US GFS models have been highlighting this potential for a couple of days, and I'd say there's a pretty good chance that some sort of tropical system, whether it be a disorganized area of thunderstorms or a tropical storm, will reach the northwestern Caribbean Sea by Wednesday or Thursday of next week. After that, it probably would move into the Gulf of Mexico. It could really go anywhere after that, but the most likely locations would be Mexico, Texas, or Louisiana. The bottom line is that we're looking at the possibility of a tropical system in the Gulf of Mexico as we head into Labor Day weekend.
This is not something you should panic about, by any means. The storm must overcome wind shear and a host of other obstacles. But as we get into late August and early September, we're going to be watching all of these waves closely, because the next month is prime time for Gulf of Mexico hurricanes.
A message from Reliant, our sponsor
As Eric and Matt closely watch the tropics for us, Reliant wants to encourage Texans along the coast to start preparing – even before a storm is brewing. The first 72 hours after a storm hits are the most crucial to save lives. Supplies like bottled water, backup power, shelf-stable food, first aid kits, emergency blankets, waterproof protection for documents, signaling glow sticks and whistles are important to have gathered in advance. You can find a helpful storm prep checklist at the Reliant Storm Center.
If you live in Fort Bend County, Reliant is teaming up with its parent company, NRG, and nonprofit Attack Poverty to distribute 2,500 emergency preparedness buckets that come with many of these supplies. The next distribution is on Saturday, August 27. Location and timing details are released 24-48 hours before and can be found at https://attackpoverty.org/response/preparedness/.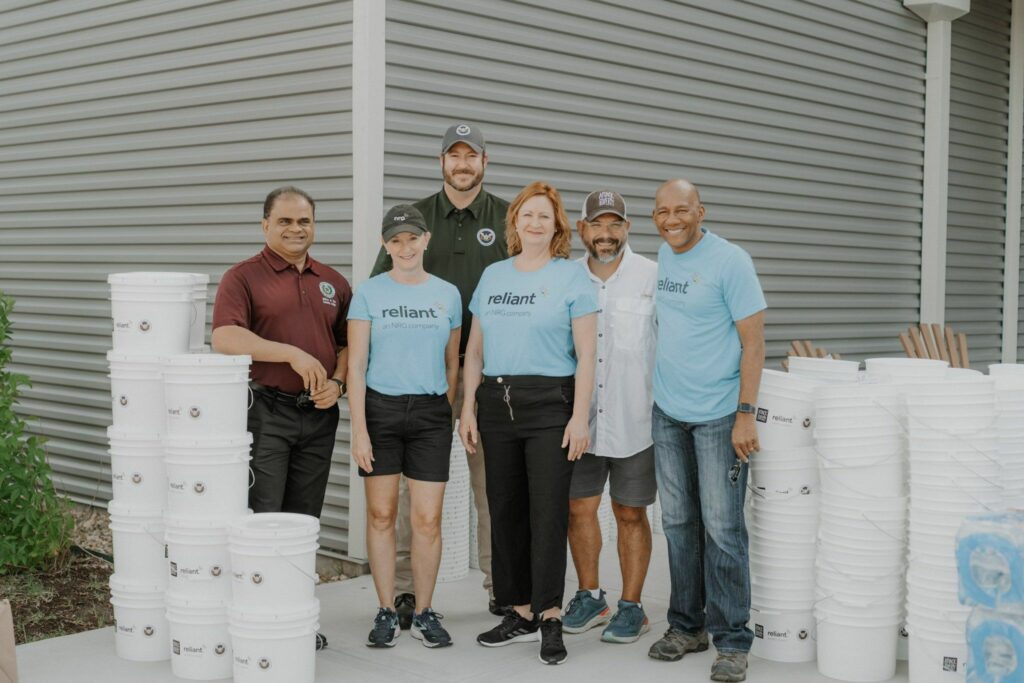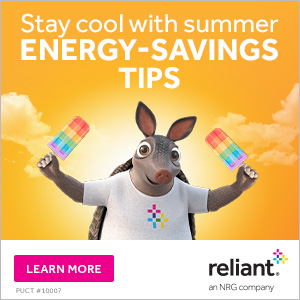 idk idk idk idk idk idk idk idk idk idk idk rdf rdf rdf rdf rdf rdf rdf rdf rdf rdf rdf rdf rdf rdf rdf rdf rdf rdf rdf rdf rdf rdf rdf idkidkidkidkidkidkidkidkidkidkidkidkidkidkidkidkidkidkidkidkidkidkidkidkidkidkidkidkidkidkidkidkidkidkidkidkidkidkidkidkidkidkidkidkidkidkidkidkidkidk idkidkidkidkidkidkidkidkidkidkidkidkidkidkidkidkidkidkidkidkidkidkidkidkidkidkidkidkidkidkidkidkidkidkidkidkidkidkidkidkidkidkidkidkidkidkidkidkidkidk idkidkidkidkidkidkidkidkidkidkidkidkidkidkidkidkidkidkidkidkidkidkidkidkidkidkidkidkidkidkidkidkidkidkidkidkidkidkidkidkidkidkidkidkidkidkidkidk idkidkidkidkidkidkidkidkidkidkidkidkidkidkidkidkidkidkidkidkidkidkidkidkidkidkidkidkidkidkidkidkidkidkidkidkidkidkidkidkidkidkidkidkidkidkidkidkidkidk idkidkidkidkidkidkidkidkidkidkidkidkidkidkidkidkidkidkidkidkidkidkidkidkidkidkidkidkidkidkidkidkidkidkidkidkidkidkidkidkidkidkidkidkidkidkidkidkidkidk idkidkidkidkidkidkidkidkidkidkidkidkidkidkidkidkidkidkidkidkidkidkidkidkidkidkidkidkidkidkidkidkidkidkidkidkidkidkidkidkidkidkidkidkidkidkidkidk idk idk idk idk idk idk idk idk idk idk idk rdf rdf rdf rdf rdf rdf rdf rdf rdf rdf rdf rdf rdf rdf rdf rdf rdf rdf rdf rdf rdf rdf rdf idkidkidkidkidkidkidkidkidkidkidkidkidkidkidkidkidkidkidkidkidkidkidkidkidkidkidkidkidkidkidkidkidkidkidkidkidkidkidkidkidkidkidkidkidkidkidkidkidkidk idkidkidkidkidkidkidkidkidkidkidkidkidkidkidkidkidkidkidkidkidkidkidkidkidkidkidkidkidkidkidkidkidkidkidkidkidkidkidkidkidkidkidkidkidkidkidkidkidkidk idkidkidkidkidkidkidkidkidkidkidkidkidkidkidkidkidkidkidkidkidkidkidkidkidkidkidkidkidkidkidkidkidkidkidkidkidkidkidkidkidkidkidkidkidkidkidkidk idkidkidkidkidkidkidkidkidkidkidkidkidkidkidkidkidkidkidkidkidkidkidkidkidkidkidkidkidkidkidkidkidkidkidkidkidkidkidkidkidkidkidkidkidkidkidkidkidkidk idkidkidkidkidkidkidkidkidkidkidkidkidkidkidkidkidkidkidkidkidkidkidkidkidkidkidkidkidkidkidkidkidkidkidkidkidkidkidkidkidkidkidkidkidkidkidkidkidkidk idkidkidkidkidkidkidkidkidkidkidkidkidkidkidkidkidkidkidkidkidkidkidkidkidkidkidkidkidkidkidkidkidkidkidkidkidkidkidkidkidkidkidkidkidkidkidkidk idk idk idk idk idk idk idk idk idk idk idk rdf rdf rdf rdf rdf rdf rdf rdf rdf rdf rdf rdf rdf rdf rdf rdf rdf rdf rdf rdf rdf rdf rdf idkidkidkidkidkidkidkidkidkidkidkidkidkidkidkidkidkidkidkidkidkidkidkidkidkidkidkidkidkidkidkidkidkidkidkidkidkidkidkidkidkidkidkidkidkidkidkidkidkidk idkidkidkidkidkidkidkidkidkidkidkidkidkidkidkidkidkidkidkidkidkidkidkidkidkidkidkidkidkidkidkidkidkidkidkidkidkidkidkidkidkidkidkidkidkidkidkidkidkidk idkidkidkidkidkidkidkidkidkidkidkidkidkidkidkidkidkidkidkidkidkidkidkidkidkidkidkidkidkidkidkidkidkidkidkidkidkidkidkidkidkidkidkidkidkidkidkidk idkidkidkidkidkidkidkidkidkidkidkidkidkidkidkidkidkidkidkidkidkidkidkidkidkidkidkidkidkidkidkidkidkidkidkidkidkidkidkidkidkidkidkidkidkidkidkidkidkidk idkidkidkidkidkidkidkidkidkidkidkidkidkidkidkidkidkidkidkidkidkidkidkidkidkidkidkidkidkidkidkidkidkidkidkidkidkidkidkidkidkidkidkidkidkidkidkidkidkidk idkidkidkidkidkidkidkidkidkidkidkidkidkidkidkidkidkidkidkidkidkidkidkidkidkidkidkidkidkidkidkidkidkidkidkidkidkidkidkidkidkidkidkidkidkidkidkidk idk idk idk idk idk idk idk idk idk idk idk rdf rdf rdf rdf rdf rdf rdf rdf rdf rdf rdf rdf rdf rdf rdf rdf rdf rdf rdf rdf rdf rdf rdf idkidkidkidkidkidkidkidkidkidkidkidkidkidkidkidkidkidkidkidkidkidkidkidkidkidkidkidkidkidkidkidkidkidkidkidkidkidkidkidkidkidkidkidkidkidkidkidkidkidk idkidkidkidkidkidkidkidkidkidkidkidkidkidkidkidkidkidkidkidkidkidkidkidkidkidkidkidkidkidkidkidkidkidkidkidkidkidkidkidkidkidkidkidkidkidkidkidkidkidk idkidkidkidkidkidkidkidkidkidkidkidkidkidkidkidkidkidkidkidkidkidkidkidkidkidkidkidkidkidkidkidkidkidkidkidkidkidkidkidkidkidkidkidkidkidkidkidk idkidkidkidkidkidkidkidkidkidkidkidkidkidkidkidkidkidkidkidkidkidkidkidkidkidkidkidkidkidkidkidkidkidkidkidkidkidkidkidkidkidkidkidkidkidkidkidkidkidk idkidkidkidkidkidkidkidkidkidkidkidkidkidkidkidkidkidkidkidkidkidkidkidkidkidkidkidkidkidkidkidkidkidkidkidkidkidkidkidkidkidkidkidkidkidkidkidkidkidk idkidkidkidkidkidkidkidkidkidkidkidkidkidkidkidkidkidkidkidkidkidkidkidkidkidkidkidkidkidkidkidkidkidkidkidkidkidkidkidkidkidkidkidkidkidkidkidk idk idk idk idk idk idk idk idk idk idk idk rdf rdf rdf rdf rdf rdf rdf rdf rdf rdf rdf rdf rdf rdf rdf rdf rdf rdf rdf rdf rdf rdf rdf idkidkidkidkidkidkidkidkidkidkidkidkidkidkidkidkidkidkidkidkidkidkidkidkidkidkidkidkidkidkidkidkidkidkidkidkidkidkidkidkidkidkidkidkidkidkidkidkidkidk idkidkidkidkidkidkidkidkidkidkidkidkidkidkidkidkidkidkidkidkidkidkidkidkidkidkidkidkidkidkidkidkidkidkidkidkidkidkidkidkidkidkidkidkidkidkidkidkidkidk idkidkidkidkidkidkidkidkidkidkidkidkidkidkidkidkidkidkidkidkidkidkidkidkidkidkidkidkidkidkidkidkidkidkidkidkidkidkidkidkidkidkidkidkidkidkidkidk idkidkidkidkidkidkidkidkidkidkidkidkidkidkidkidkidkidkidkidkidkidkidkidkidkidkidkidkidkidkidkidkidkidkidkidkidkidkidkidkidkidkidkidkidkidkidkidkidkidk idkidkidkidkidkidkidkidkidkidkidkidkidkidkidkidkidkidkidkidkidkidkidkidkidkidkidkidkidkidkidkidkidkidkidkidkidkidkidkidkidkidkidkidkidkidkidkidkidkidk idkidkidkidkidkidkidkidkidkidkidkidkidkidkidkidkidkidkidkidkidkidkidkidkidkidkidkidkidkidkidkidkidkidkidkidkidkidkidkidkidkidkidkidkidkidkidkidk idk idk idk idk idk idk idk idk idk idk